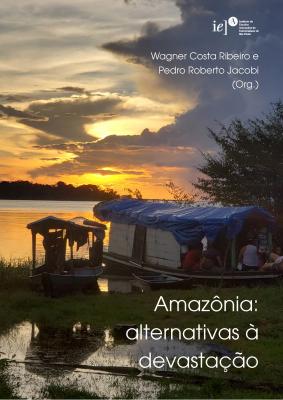 Launching of the book Amazônia: alternativas à devastação (Amazonia: alternatives to devastation) organized by the researchers Wagner Costa Ribeiro (University of São Paulo. Faculty of Philosophy, Literature and Human Sciences) and Pedro Roberto Jacobi (University of São Paulo. Institute of Advanced Studies) brings a set of reflections and analyses on the Amazon. 
Two years in a row, 2019 and 2020, recorded the highest rates of deforestation in the Brazilian Amazon, a trend that continues in 2021. This period began in January 2019, the year in which the President of the Republic chose a lawyer as Minister of the Environment, who resigned in June 2021 after failing to control the loss of the forest. Losing biodiversity directly affects the population that lives near the preserved areas, but also the ecosystemic and environmental services that the Brazilian Amazon provides to the country and the world, as indicated by several chapters gathered in this book. That is why this theme is so important and deserves critical reflection in search of alternatives to this situation. In September 2020, the Research Group on Environment and Society, of the IEA-USP, discussed ways to combat deforestation, but also to demonstrate ongoing experiences that allow reconciling economic activity with the conservation of biodiversity and communities living in the Amazon. This time, an attempt was made to combine Amazonian researchers with researchers who have their origin and research institution in other parts of the country.
The event will be on December 8, starting at 9:00 am, with transmission through the social networks of the Institute for Advanced Studies of the USP. At the launch, we will have the presence of Professor Hervé Thery, eminent geographer and Amazon specialist at the opening. Afterwards, the authors will present their texts, followed by questions from the audience. Follow the link and the poster.